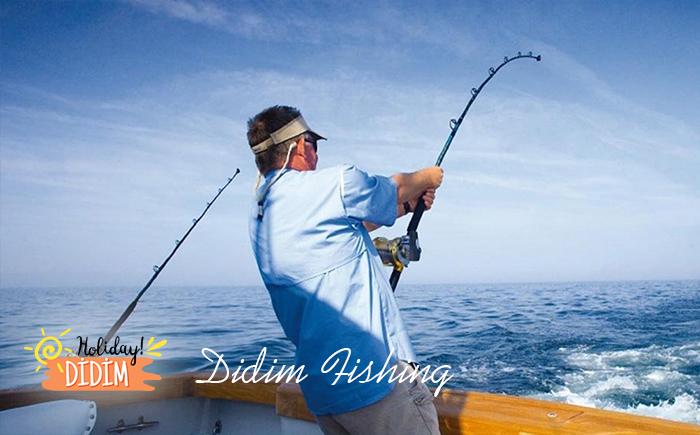 While Didim fishermen are looking forward to the opening of the season, amateur fishermen can enjoy both the sea and the fish on a boat trip.
Didim Fishing
Fish is done when it is said and fishing boats from fishing in many cities in Turkey at the beginning of the places come to mind first. While fishing is done in the city by hundreds of amateur fishermen who take their fishing line, this is done by companies that do this professionally. We know the effect of fishing in any way on human psychology. Moreover, it is not only a fish but also a distinct merit and joy in eating the fish. There are many addresses in Didim where you can eat delicious fish.

It would be unfair to mention only one place here, because all of the fish caught in different parts of Didim have the same taste. Skillful hands, which add flavor to fish, have always been among the first preferred addresses. You can see the fishermen of Didim and their comments on our site. In fact, many people who use fishing as a psychological tool can make fishing more colorful with boat tours.


Didim Fishing Tours
Boats that arrange Didim fish and fishing tours take the fish and fishing enthusiasts by boat in certain time periods and provide them the opportunity to spend a pleasant time in Akbük and Didim offshore in the middle of the sea.

The fishing trip, which started in the early hours of the morning in Altınkum beach, continues with the launch of the fishing rods right after a nice breakfast on the boat. This fishing trip, which you can join with your family and suitable for children, is an indispensable activity for amateur fishermen who want to evaluate the weekends. Most of the boats also have GPS fish finders, and lunch is of course not forgotten. If you wish, you can immediately consume the fish you catch fresh.


Didim Fishermen
While Didim fishermen are looking forward to the opening of the season, this is very important from a commercial point of view. Because there are many people in the city who earn their living by fishing, and these people have to earn money because of this work. Although fishing may seem like a hobby, it is actually much more than a hobby and holding is an art as much as it is fun. Because not everyone is lucky and determined to fish. You have to wait for hours after throwing your fishing rod and your hand turns empty as a result of this waiting. However, the important thing is not to turn your hand empty, but you are there to fish.

Turkey left behind as can compete with the world's fisheries are in many cities in many countries. Didim Despite being a resort area also has an important place in Turkey's economy pretentious and over fishing.

When you come to Didim, we strongly recommend you to visit Didim fishermen and eat delicious fish, whether you are visiting on business or on vacation.